As usual, I'm linking up over here this morning: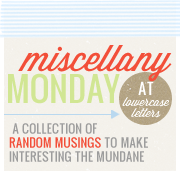 I.
Crossfit
is tearing me up, in good and bad ways.
The good: I wore my old (as in high school, but don't tell anyone that I'm wearing ten year old clothes) jeans to church on Sunday. They were buttoned up and everything! Not that I would ever go to church with unbuttoned pants. Especially not if I was five months pregnant and not mentally prepared for the elastic pants thing. No, definitely not me. (Don't worry, Mom. If someone else, who was not me, ever decided to go to church with their pants unbuttoned, I'm sure they would have worn a belt. You totally wouldn't have been able to tell that my I mean that random, not me, other person's pants weren't buttoned.)
The bad: Wednesday's workout made my bottom (we've been working on replacing the other "b" word now that we've got a little copycat-in-the-making in the house) sore. I was so sore on Thursday night that as I crawled into bed, I whispered (we really need a house with carpeting/insulated interior walls/a split floor plan) "Ow! I sat on it." Patrick didn't even need to ask what "it" was.
II. Madison got to play with her friend, Audrey, in the church foyer yesterday. I think it's funny how different their personalities are: Audrey had this HUGE grin on her face the whole time (I'm pretty sure she's consistently the happiest baby I've ever seen), while Madison was alternately frowning in concentration/very slightly smirking. Patrick and I were concerned that she would "love on" (slap) Audrey's face, like she always does with us, Bella, and the baby in the mirror. There were a few close calls, but we managed to catch her pudgy little hand at the last second each time.
III. I am so in love with her little face. I can't believe that one day she's going to ask me for makeup. Can you imagine covering those beautiful little eyelashes in black goop? I wonder how long I'll be able to get by with buying her clear mascara. If the peas in lieu of green beans substitution I tried the other day is any indication, it'll probably mean a second trip to the store the same day.
IV. Speaking of makeup, I had a dream last night that while walking through Walmart, I discovered that all this time I had been shopping in the "expensive" Covergirl aisle. In dream Walmart, two aisles down, there's another selection of the same Covergirl products for way less money. I guess it was more of a nightmare than a dream.
Have you ever changed your vocabulary? Worn ten-year-old jeans proudly? Would you ever go to church with unbuttoned pants? Yeah, me neither. I mean, who does that? : )
-Kelli