Linking up over here: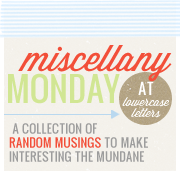 I. For fear of jinxing it, I'm
not
going to tell you how well Madison has been sleeping these last few days. I will say that my eyes are about 25% less bloodshot than they've been since last June.
II. Patrick and I tried Starbucks Blonde Roast (the Veranda one) yesterday afternoon. I think to know what it
really
tastes like, we'll have to buy a pound. Our local Starbucks (where, coincidentally, I used to work) brews their coffee at double strength, then lets it sit for an hour and a half. We're currently sitting on about two and a half pounds of coffee, so I think we'd better drink it down a little before buying any more, even if I
do
have a coupon.
III. My husband is pretty great; he forced me out of the house after Madi went down for bed last night. I got to see the whole second half of the Superbowl.
IV. Yesterday morning, Madison woke up around 6:00, ready for her early morning feeding. After I put her back into her crib, I got the crazy idea to go for a run. I made it about a lap and a quarter (meaning a little over half a mile) before I turned around and sprinted back to the car. It was so cold that my fingers hurt now, just remembering it.
V. Looking for houses before listing/selling your own can lead to nothing but heartache. I've got to block HAR.com . I've already said goodbye to two different "the one"'s.
Happy Monday!
-Kelli
PS: Whoa, I just spelled my name wrong. That was weird. (I fixed it)