Linking up over here: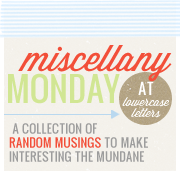 I. Our garage door is starting to look presentable. It's also no longer suitable as a prop in Final Destination, which is a nice bonus.
II. I think it's time to break out the
edible finger paint
again. As I was typing "bonus", (I'm a multi-tasker)I noticed my sweet girl "painting" on her play mat with her own spit up. She didn't seem to appreciate when I wiped it up (alternately, when I took away her "toy").
III. House fever has abated. Patrick and I are going to do the mature, adult thing by waiting to save money and then buy a bigger, better house. In the meantime, this one is keeping the rain off our heads just fine. Well, at least it will once we replace the roof. : )
IV. Madison seems to wake up just a little earlier every morning. We've already pushed her bedtime back from 6:15 to 7:15. I guess it's time to bump it back just a little more.
V. Speaking of Madison, panic set in this morning regarding her birthday party. When did she get to be eight months old?! And who knew that eight months was only four months away from a year?!
Happy Monday!
-Kelli