Linking up over here this morning: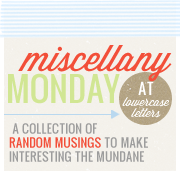 I. Madison totally tricked me yesterday morning. Her sleep has been going like clockwork lately, so much so that I don't actually
check
the clock anymore when she wakes up. I just go get her. Well, yesterday she decided to wake up two full hours early. Normally, I would go pick her up, hold her for a minute or so, then put her back down. That works pretty much every time. Instead, since I assumed it was time to wake up, I went ahead and got her up and nursed her, which threw off the whole schedule of the day. I was so tired when we (Patrick and I) got her up from her first nap that I lapsed into an island tongue, with the off balance cadence, accent, and all: "If I go sleep now, you think she be okay?" Weird, man.
II. Big changes are a-brewing in the Philpot household! That's right, we
did
change our daily breakfast. We no longer have burritos (for Patrick) and eggs and toast (for me); we now start off our morning with bagels and cream cheese! For those of you concerned about the nutrition trade-off, as it turns out, these bagels have
more
protein than the eggs/burritos that used to be our menu, and less sodium, sugar, and bad cholesterol. Who knew?
III. Madison has started a new thing. Sometimes when we carry her, she'll raise either one or both hands straight above her head. It looks like she's either riding a roller coaster or saying "Hallelujah", which was especially relevant when she did it during worship yesterday morning. I would have taken a picture, but that might have been seen as a bit irreverent. : )
IV. Due to our (okay, my) former conversations with the local Jehovah's Witness missionaries, we've apparently been blacklisted. Seriously, they'll knock on our left-hand neighbor's door, cross the street to walk past our house, then recross the street to knock on our right-hand neighbor's door, all with us in the yard trying to make eye contact/waving hello. It's very frustrating. Our grass, however, is apparently not off limits. Yesterday, they parked two cars in our front ditch, then proceeded to use our front yard as a staging ground for adjusting ties and replenishing their stock of watchtower publications. When Patrick went out to invite them inside/ask if they needed any help, they politely declined, saying that they were looking for Spanish-speaking people. Apparently they've met their quota of English-speaking folk (or at least the ones who are born-again, once-saved-always-saved, worshipers of Jesus as God). Wow. That came across as incredibly insensitive. For the record, I have nothing against these people who are trying so hard to please a God they have never met. I'm just hoping for an opportunity to introduce them.
Sorry for the attitude. I should have drank my coffee
before
writing my post. Lesson learned.
Happy Monday!
-Kelli